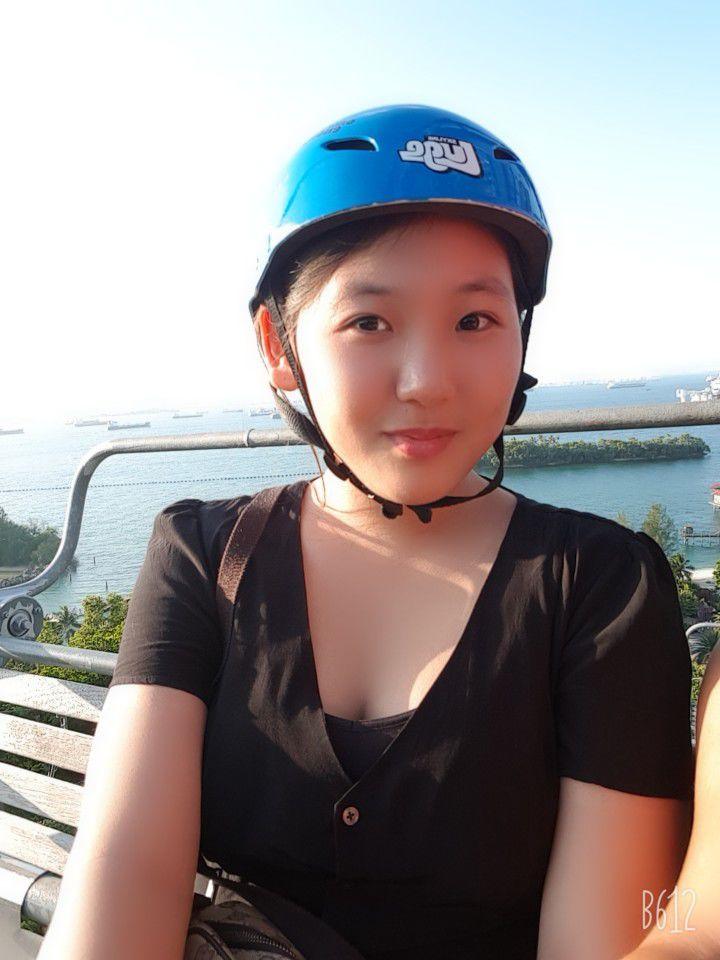 Sandra Han: Striving for success
The looming college application deadlines don't seem to scare Sandra Han, a 17-year-old Harvest Christian Academy senior who is involved in Academic Challenge Bowl, Drama Troupe, Tri-M Music Honor Society, debate and other activities. Although she claims to be introverted, Han is open to new opportunities and experiences. She is the co-captain of her golf team, which she reluctantly joined because of her parents, but triumphantly earned fourth place islandwide.
Born in Seoul, South Korea, she moved to Guam at age 4. While she enjoys the familiar sense of home on the island, she dreams of living in a bustling city for her college years. Traveling to Europe, Singapore, Thailand, Myanmar, Bali and other places has expanded her horizons. Exposure to other cultures and ways of life opened her eyes and allowed her to take advantage of numerous opportunities.
Han's Korean culture is a strong part of her identity, along with her interest in K-pop. She aspires to do ambassadorial work in North Korea where she has distant relatives. She looks up to her supportive mother and her father, who attended the University of California, Los Angeles on a scholarship.
Han admits that she can be a perfectionist with projects at times, but she is easily relatable and not intimidating despite her intelligence. She joined The Scoop because of her interest in writing and believes the experience has brought her out of her comfort zone and challenged her to push herself further.
The Tamuning resident is a natural and skilled public speaker. She is driven and has very high standards that will help her achieve success in international relations. The debate team captain thrives in giving speeches to an audience in a way that she can influence their ideas with hers. If they can leave the room with an open mind about something they had preconceived notions about, she feels she has accomplished her mission as a speaker.
Han offered advice drawn from her experiences with The Scoop. "Take the opportunities that you're given because I had no idea I would ever be interested in most things I did."
As Han's high school career comes to an end, her achievement of goals shown in her extensive and diverse resume as well as her drive will serve her for a lifetime.
(Kai Leigh Harrison/The Scoop)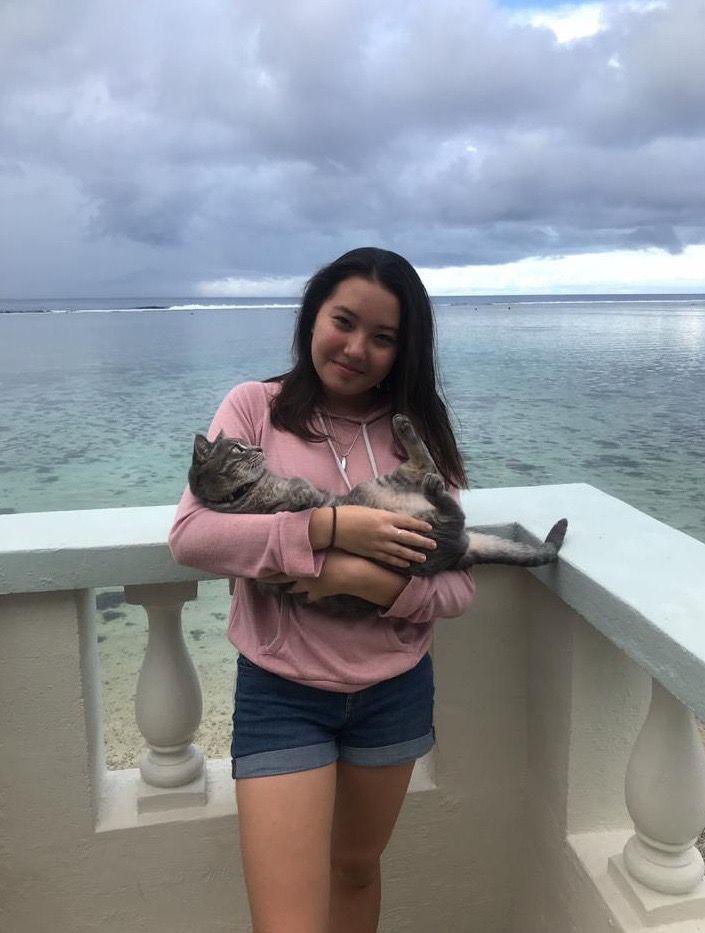 Kai Leigh Harrison: Caring for the environment
A 14-year-old sophomore at St. John's School, Kai Leigh Harrison spends her time between two worlds, figuratively and literally.
Half-Korean and half-white, she shines as she describes her mom's "best-in-the-world" galbi, a Korean dish, while she talks about her dad's passion for environmental science.
When she's not playing volleyball or doing homework, Harrison is reading, though her tastes are wildly different. Harrison is someone who can enjoy something as lighthearted as "Crazy Rich Asians" but names "Hundred Years of Solitude" as a recent piece she loved.
Harrison mentions that The Scoop offered her an outlet for one of her biggest passions: the environment. Just like her father, Harrison is a self-described "environmental nut" with big dreams about the future of climate change.
As an up-and-coming journalist, she hopes to write articles on said topic, specifically from a different, younger perspective.
"The outreach (of The Scoop) is something that really speaks to me," Harrison says.
Naming Greta Thunberg, renowned climate change teen activist, as one of her role models, Harrison spends a lot of time researching and coming up with potential solutions to climate change. A lot of things may be unsure in her future, but this isn't one of them.
"One of my goals in life is, if it's not already done, is to definitely try to help climate change," she says. Harrison also describes a recycling program in Germany that inspired her.
For now, her plans include "to graduate, get into a good college, go into the field and far, far away, when I'm old and have arthritis, teach at a university level. Subject to change, though," she adds.
While Harrison seems to have the bigger picture figured out, she doesn't hesitate to admit that she's "still just a kid." Recognizing the value of taking things day by day, Harrison comes off as both excitable and relaxed, child-like yet mature.
"The world tells you that in order to be mature, in order to go places, you have to grow up," Harrison muses. "But at the same time, you don't necessarily have to grow up all the way because keeping that sense of childishness in your worldview can really open your eyes to things that other people don't see."
(Sandra Han/The Scoop)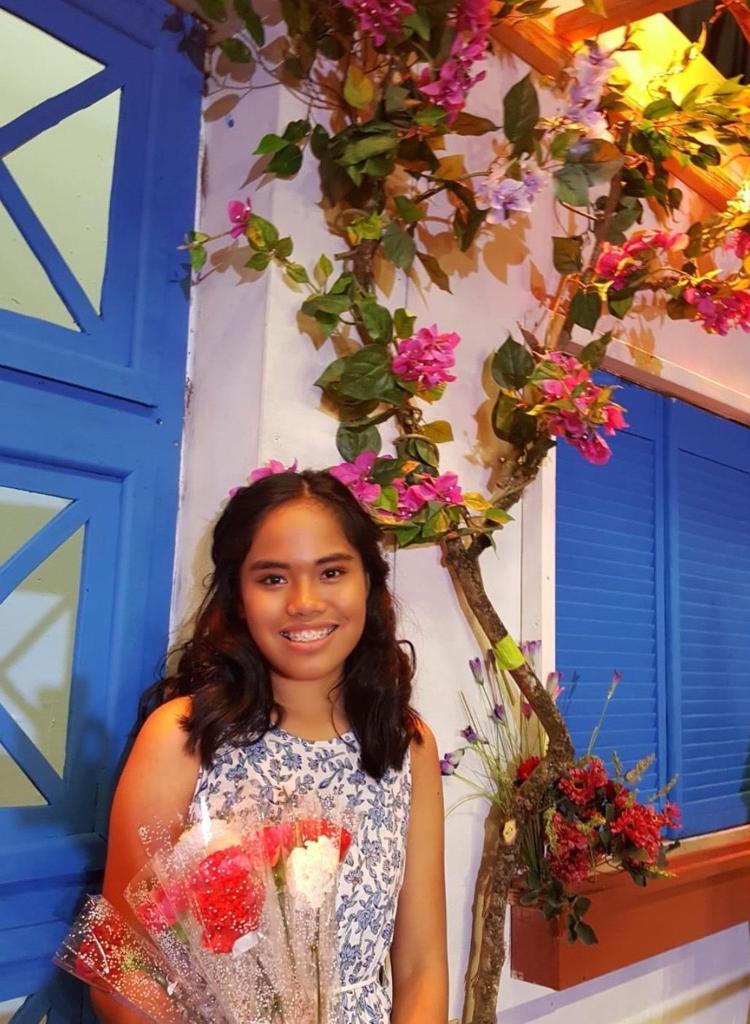 Jan Malig-on: Sharing her talents
If you have ever been to a local production, you might have seen her sharing her talents in the spotlight.
Jan Malig-on is an adventurous and talented soul with so much to offer to the world. The 15-year-old sophomore at the Academy of Our Lady of Guam is phenomenal at anything she puts her mind to.
The Cougar is actively participating in several organizations, including Youth for Christ, an organization of Catholic teens dedicated to serve as a ministry in their respective parish. Malig-on is also part of her school's Academic Challenge Bowl team.
Out of her array of activities, one really seemed to brighten her tone the most, and that happened to be the topic of productions. Malig-on has developed her acting skills by participating in three productions.
"I participated in 'Hairspray,' 'Cinderella' and 'Mamma Mia!'" the eager soul exclaimed.
Those productions fueled Malig-on's love for theater and inspired her to become an actress when she is older.
Malig-on practices her skills in drama on the daily. "I surround myself with intellectual people that have big dreams, but also people that laugh when they feel a bit of pressure from school," she said.
This helps her in becoming more social, and she eagerly mentioned how she is considered the funny one out of her group of friends.
Though reaching high achievements in and out of school, Malig-on stays grounded and credits that to her family and friends.
She said her late mom would always say, "Be healthy, wealthy and wise" during her birthdays.
Malig-on values these words not only as a memory of her dear mother but also because she sees it as essential to being a good person and to sharing that good with others.
The spirited soul talked passionately about being healthy in all aspects — wealthy in love and charity and wise in experience.
Motivated to impact the youth and break out of her comfort zone, Malig-on is a phenomenal addition to The Scoop team.
(Vicente Blas Taijeron/The Scoop)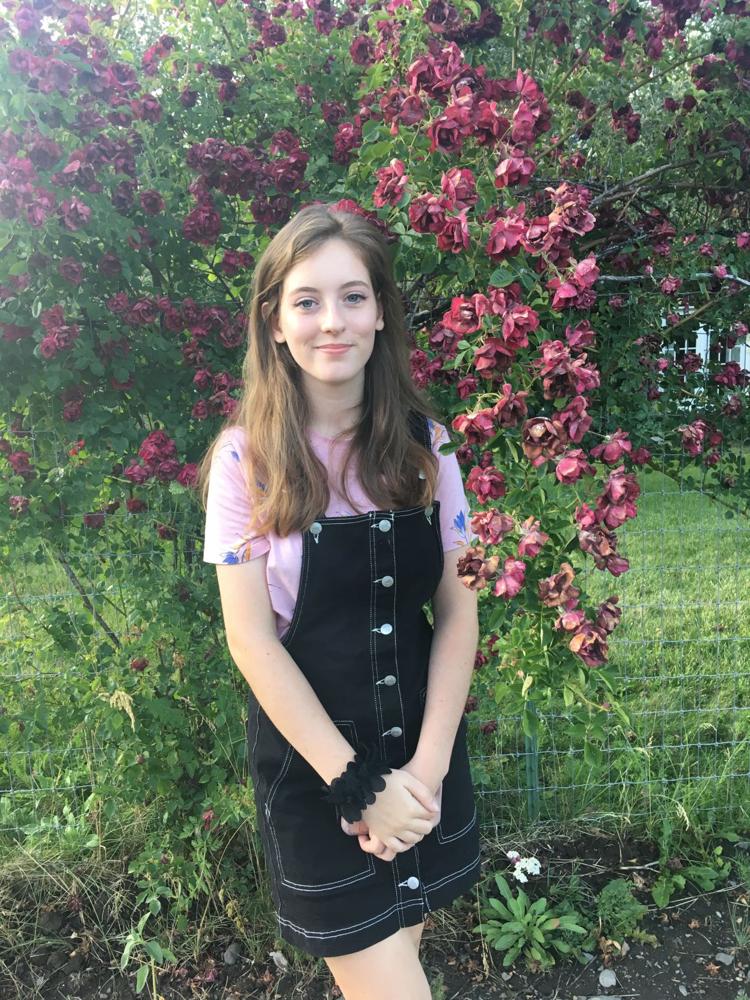 Kaitlyn Wolfley: Experimenting with art
Painting the blank canvas with a wild swirl of existing colors, Kaitlyn Wolfley is a panchromatic soul but a silhouette — a silent poet.
The junior from Guam High School engages herself with the arts — journalism, creative writing and painting.
"My favorite mediums are acrylic and watercolor, though I've been trying to get into more difficult paints like gouache and oil."
The 16-year-old's passion for journalism began when she was in eighth grade. She started to "binge-read" the news and participated in discussions regarding current events and politics. Since her mom studied journalism in college, she was inspired to pursue the same path.
"It was around that time that I saw many kids of my own age and older teens in the media who were influencing others, starting awareness campaigns and being the change they wanted to see."
As a freshman, she signed up for journalism, which ended up being her favorite class by the end of the school year.
Residing in Virginia Beach for most of her life, she moved to Guam last year, and her goal is to be a more friendly and outgoing person.
"There's usually a lot of new kids throughout the year at my school, so I'll definitely be able to practice a lot."
In her free time, Wolfley attempts to discover new music or vibe to her playlist while she paints. She is enthralled with her all-time favorite artist Vincent van Gogh due to his masterpiece "Skull Of a Skeleton with a Burning Cigarette" and his style of impressionism. Her favorite modern artists are Polina Bright and Elena Gual.
"Their techniques inspire me to experiment with my own works and try new things."
Her proudest achievement was when her teacher submitted her artwork to the Virginia Museum of Contemporary Art in eighth grade.
"It was really cool to me that other people appreciated my art," Wolfley said. "It was the first time I'd really had any of my work shown outside of school or home, so that was a turning point for me."
Wolfley's advice to those striving to be their best is to recognize that they are the only ones who can change themselves.
She hopes to use The Scoop to highlight the positives of the community. "Everyone knows about all the rumors or tragic events nearby, but sometimes, people just need to be reminded that there are great things happening all around them too."
(Ron Rocky Coloma/The Scoop)