SAIPAN — With an 80% drop in casino revenues, the CNMI's gross domestic product decreased by 11.2% in 2019, according to data from the U.S. Department of Commerce Bureau of Economic Analysis.
GDP is the comprehensive measure of economic activity. It is the value of the goods and services produced in a jurisdiction.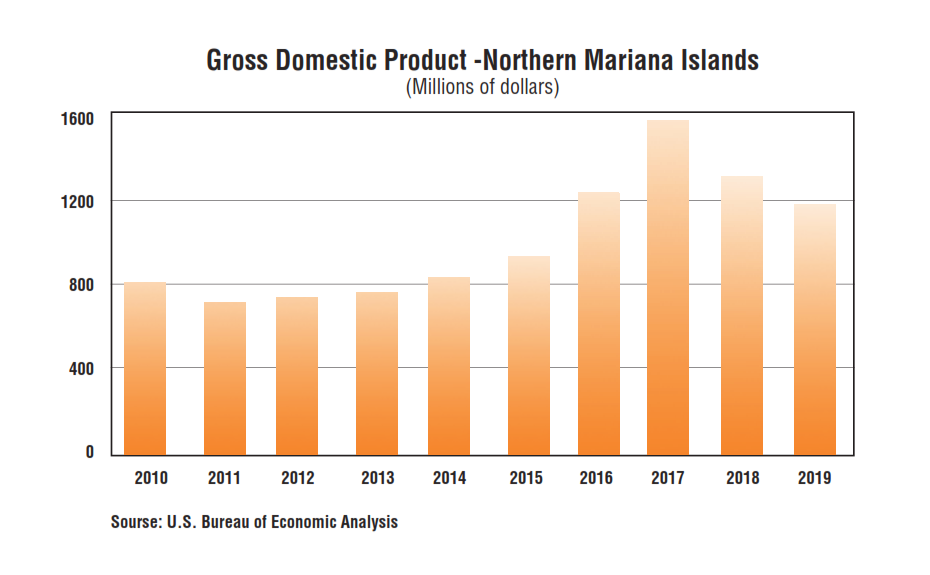 BEA's estimates of GDP for the CNMI for 2019, in addition to estimates of GDP by industry and compensation by industry for 2018, were developed under the Statistical Improvement Program funded by the Office of Insular Affairs of the U.S. Department of the Interior.
BEA's estimates for the CNMI show that real GDP decreased 11.2% in 2019 after decreasing 19.3% in 2018 when two typhoons slammed into the commonwealth's three main islands in September and October.
BEA stated that the decrease in real GDP reflected decreases in exports and private fixed investment, but these decreases were partly offset by an increase in government spending.
According to BEA, exports of goods and services were the primary driver of the decline in real GDP. Exports of services decreased by 27.7%.
Visitor spending, including on casino gambling, also declined in 2019.
BEA stated, according to publicly available financial statements, that revenues from casino gambling dropped over 80%.
In its report last month, the Imperial Pacific International board of directors in Hong Kong reported a HK $2.85 billion (U.S. $367 million) loss for the year ended Dec. 31, 2020, with the closure of Imperial Palace since March 2020 due to the COVID-19 pandemic.
The absence of gaming operations through much of 2020 saw IPI's revenue plummeting 95.1% to just HK $26.5 million (U.S. $3.4 million), with the company's once substantial VIP segment seeing rolling chip volume fall from HK $14.02 billion (U.S. $1.8 billion) in 2019 to HK $846 million (U.S. $108.7 million), the IPI report added.
Decline in investment
In its report, BEA said private fixed investment decreased 20.8%, reflecting a decline in business spending on construction and equipment.
But in 2019, business spending on construction and equipment remained at historically high levels, supported by continued development of a casino resort on Saipan and post-typhoon reconstruction activity.
BEA said federal government spending increased 42.3%, primarily due to recovery activities following Supertyphoon Yutu, and territorial government spending increased 4.1%, reflecting an increase in expenditures funded by federal disaster grants.
BEA stated that the estimates of GDP by industry for the CNMI showed that the private sector was the source of the decline in real GDP in 2018. "The decline was more than accounted for by the accommodations, food services, and amusement sectors, reflecting the drop in tourism and output of the casino industry."
BEA said total compensation increased in 2018, "reflecting growth in all industries shown except manufacturing. The largest contributor was the territorial government. Government financial statements for the Commonwealth and its independent agencies show that wages increased in fiscal year 2018."
BEA said it plans to release GDP estimates for 2020 for the CNMI in the fall of 2021.
It was in March 2020 when the CNMI's lone industry – tourism – shut down due to the global pandemic.
Over a year later, the local tourism industry remains in limbo.