SAIPAN — Del. Gregorio Sablan of the Commonwealth of the Northern Mariana Islands said he was uneasy about the credibility of Lt. Gov. Arnold Palacios, who has announced his independent gubernatorial candidacy with Saipan Mayor David Apatang as running mate.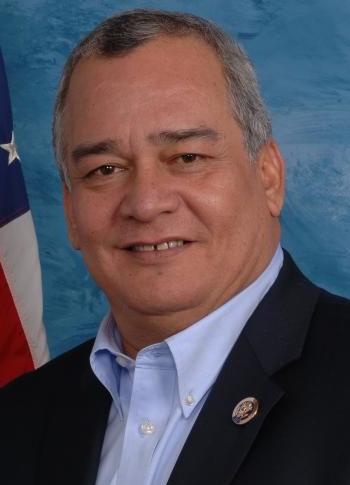 "This is not to take anything away from the lieutenant governor," Sablan said. But "for ... three years, he's been partners with Gov. (Ralph) Torres and as of today, they are still partners. For three years, he said nothing. It was only when Gov. Torres decided to select someone else as his running mate (that Palacios) said something. That part bothers me. He was there for three years before he said anything."
Sablan added, "Somebody told me this the other day, 'What if Gov. Torres chose (Palacios) to be his running mate? We would not be hearing these things.' I mean, three years of silence is really deafening."
Palacios and Apatang said they will wage a collaborative campaign to reach out to voters from all parties.
Palacios said they were also considering the CNMI Democratic Party's invitation to participate in its gubernatorial nomination process.
On Friday, Del. Sablan said he will run on the Democratic slate in the 2022 elections.
A former Democratic member of the CNMI House in the 1980s, Sablan ran for Congress in 2008 and has sought reelection since then as an independent. In the U.S. House, he is aligned with the national Democrats.
Sablan on Friday said he will support all of the CNMI Democratic Party's candidates for public offices in the general elections next year.
"I will work with Democrats, the Democratic Party candidates, and work to support them, from the gubernatorial candidate all the way down to the mayors and the Legislature, and work together to fix our commonwealth (and) bring some dignity back," he added.
'I've never seen this level of corruption'
He said he wants the CNMI people to be able to take pride in their government.
"It's no secret. It's been out there. As sad, as disappointing and as embarrassing as it may be. The corruption, the level of corruption that's going on at the present time in the commonwealth government is just unacceptable," Sablan said.
"We need to face this matter and we need to address it in a much more forceful way. Our people need to understand that they pay for the cost of corruption. It is the people that pay for the cost of corruption. I've never seen this level of corruption. Enough is enough," he added.
CNMI Democratic Party chairperson Nola Hix thanked Sablan for his letter of intent.
"Thank you for joining us in this fight and adhering to our party's process by submitting your letter of intent. Thank you for supporting your NMI Democrats and by officially announcing your intent to run as an NMI Democrat in 2022," she said.
The party will officially announce its candidates for public office on CNMI Citizenship Day, which falls on Thursday, Nov. 4.