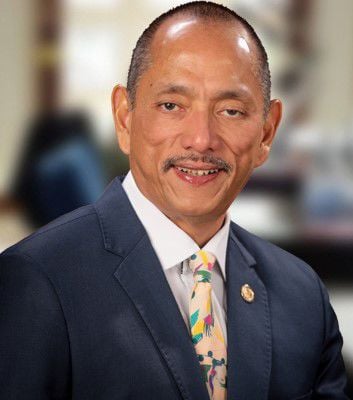 A former governor's legal counsel in the Ricky Bordallo administration and a former judge and justice, Speaker Benjamin Cruz has held key positions in the three branches government of Guam.
But after briefly entertaining the idea of going into retirement, months earlier, Cruz has found – and won – his new calling: As the elected public auditor in the Guam Office of Public Accountability.
Out of three candidates for the job, Cruz won a resounding vote of confidence from voters in Saturday's primary election. 
Cruz received 14,046 votes. Doreen Crisostomo placed a far second with 9,130 votes while Yukari Hechanova placed third with 6,303 votes.
The special election for public auditor was held following the resignation of Doris Flores Brooks, who's running for congressional delegate on the Republican Party ticket.
"I am deeply humbled by this result and our people's continued trust in me," Cruz said. "I won't let them down. As I promised prior to this election, I will allow the GEC to complete its certification process, and begin transitioning to this new role after the August legislative session is complete."
Just days before the election, Gov. Eddie Calvo's press releases were particularly critical of Cruz and the Democratic leadership's handling of the budget, which offers a mix of spending cuts and tax increases. The governor called Cruz and the rest of the Democratic legislative leadership inexperienced, even though the budget bill was passed by a mix of Republican and Democrat senators.
"While my fiscal and legal teams had many, many concerns with this bill, I do not have the confidence that this legislature has the experience nor the maturity to start all over again with a vetoed bill," Calvo's press release stated on Aug. 23.
In response, Cruz wrote, "based on the falsehoods his administration has told about (the budget bill), I am compelled to believe that forces within the Calvo-Tenorio administration have attempted to use the FY 2019 budget process as a means to influence Saturday's election." "For this reason, I am sorry. While I have always understood that some in Adelup feared a truly independent public auditor, I never imagined that it would come to this," Cruz wrote. "The thought that any administration would purposefully court fear and panic to win an election or keep some of our colleagues out of office should disturb us all."