Editor's note: The following is the introduction to a series that aims to shed light on Guam's need for resources to effectively administer its drug treatment programs.
Johnny Palacios Agulto rested in his black Toyota Corolla a short distance down the roadway on Oct. 9, 2013.
An informant had tipped off police officers who were conducting a surveillance operation that a package had been picked up, and Agulto's Corolla matched the vehicle description. Inside his car, police discovered a NicoDerm box containing a pink plastic straw sealed on one end and open on the other with a white powdery residue – methamphetamine.
Agulto was charged with possession of a controlled substance, his third possession charge in about a year. He would enter a global plea agreement in August 2014.
In his five years on release, Agulto said, he has stayed clean. But at the urging of his wife, he had taken up recovery as an outpatient at the Oasis Empowerment Center.
"She convinced me to do some relationship programs, and upon having those conversations, I realized like I'm off drugs but, your mind, I'm still thinking like a druggy. So we decided I better take some classes," Agulto said.
He entered Oasis in early April, but on May 10, Agulto was ordered by Presiding Judge Alberto Lamorena to surrender himself and serve the six-year sentence he agreed to half a decade ago.
Agulto attempted to withdraw that plea agreement on the grounds that his attorney at the time falsely represented the minimum sentence for the charges and pressured him into the agreement with the possibility of otherwise spending up to 73 years in prison.
But Lamorena found that the attorney did not act below an objective standard of reasonableness and that Agulto's sentence could have run up to 70 years and 60 days given maximum penalties and sentences running consecutively.
Agulto was ordered to appear on May 1 for further proceedings and a week later, he was committed to the Adult Correctional Facility in Mangilao. Prison time would force Agulto away from his family and his treatment at Oasis.
"It is what it is," he told The Guam Daily Post the week before his commitment date. "I don't know what to say."
Seeking recovery
Agulto is among a sea of former addicts seeking redemption through sobriety and recovery. The Post spoke to nine other such individuals, each attending programs at the Oasis Empowerment Center.
They range in age and background as well as substance of choice. Some, like Agulto, have entered the system, encountered the treatment available and have come out wanting.
There are a number of illicit substances available on island, but on Guam, methamphetamine still reigns king.
The current price of a gram of meth ranges from $350 to $500, with the trade largely fueled by criminal organizations in Asia and North America, according to the 2018 National Drug Threat Assessment.
The gravity of the situation is evident in Guam's desire to be designated as a high-intensity drug trafficking area. The classification would open access to additional federal funding.
The request was made by the last administration, and the current governor is following up on that initiative, according to Janela Carrera, spokeswoman for Gov. Lou Leon Guerrero. The governor has not heard back from the federal government, however.
Task force
Faced with an epidemic, former Gov. Eddie Calvo signed Executive Order 2017-01 in February 2017.
The order set up the Multi-Agency Network Disrupting All Narcotics Activity, or Mandaña, Drug Task Force.
The task force would comprise law enforcement, health and behavioral wellness agencies and the Department of Revenue and Taxation. The lieutenant governor served at the helm, while the chief of police co-chaired the group.
While the task force has now shrunk, it had gone on to make about 200 drug-related arrests between 2017 and 2018.
But the initiative was intended to be holistic, incorporating other agencies and distancing itself from the police-centric nature of the War on Ice in the 1990s.
Task force management was to create a set of procedures, training plans and protocols to be approved by the lieutenant governor.
The Post requested these procedures from the Guam Police Department but was provided a redacted set of documents on the Special Investigations Section, which related only to police investigative procedures.
There was no apparent mention of agencies such as the Guam Behavioral Health and Wellness Center or Department of Public Health and Social Services. The procedures also lacked the lieutenant governor's signature, as required by the executive order.
The level of activity from non-law-enforcement agencies in the task force is unclear.
Linda DeNorcey, the current head of DPHSS, said she spoke to her division heads and they have no knowledge of anything that has happened in the task force nor have they participated in the task force. DPHSS does get involved in drug crime if a case requires children to be transitioned into foster care, she added.
The behavioral health center was involved in a task force subcommittee led by Sen. Telena Nelson. The committee met a few times but hasn't convened since 2017. The agency was largely concerned with prevention, according to former Deputy Director Benny Pinaula.
During his time at the behavioral health center, Pinaula said, he was working directly with the task force. The center's existing duties did not change but were made more prominent in the community, he added. Part of the issues discussed included lowering the crime rate. Prevention was key, Pinaula said. 
Informational campaigns and outreach programs on drug and alcohol treatment were largely successful.
"We had more demand for services than we had availability," Pinaula said.
Those words, while referring to those outside prison confines, also capture the state of drug treatment services within the system, the issues of which are summarized in the draft strategy for drug control, violent crime and criminal justice improvement prepared by the Bureau of Statistics and Plans.
"There is a significant disparity between the availability of treatment services for persons with alcohol and drug use disorders and the demand for services," the draft plan stated. Guam certainly isn't alone in this issue.
But an increasing number of drug arrests and convictions place significant pressure on an already taxed judicial and prison system. Drug arrests dropped more than 50% between 2016 and 2017, but that was due to zero juvenile arrests. Adult arrests rose from 242 to 261. And overall, prison admissions continue to rise.
According to the draft strategy, about half of all offenders on Guam who relapse do so with a drug crime. The 2016 Citizen Centric Report from DOC placed Guam's recidivism rate at 62%.
"Offenders in the process of transitioning from institutional to community settings need careful prerelease assessment and connection to community treatment and/or aftercare treatment to reduce their risk of recidivism," the draft stated.
The Judiciary of Guam and DOC partner with the behavioral health center and different treatment centers to provide drug treatment and other opportunities to defendants and convicts.
"Yes, we have seen a good number of repeat offenders. Yes, some people have called for harsher punishment for drug defendants, but that is not for everyone," said Trisha Suzuki, the probation officer supervisor at the Judiciary.
The Judiciary utilizes risk assessments to identify moderate- to high-risk defendants. The resources available are more effectively expended on this group, Suzuki said.
The defendants are accepted into treatment courts which place them into intense treatment programs. Some defendants are referred to residential treatment centers, but there are waiting lists, Suzuki added.
Prison treatment extremely limited
If a defendant is incarcerated, there are different behavioral treatment opportunities available at the prison, but the only drug and alcohol treatment program is the Residential Substance Abuse Treatment (RSAT) Program.
The RSAT Program is federally administered by the Bureau of Statistics and Plans but implemented by DOC.
It is open only to inmates who have six to 12 months remaining on their sentences. This is to ensure they can be released into the community rather than returned to the general prison population after treatment.
The RSAT Program is intended to facilitate the continuum of care needed for successful recovery, but DOC's ability to treat substance abuse is hampered by limited capacity, the lack of a sustainable treatment provider and lack of funding to sustain services, according to the draft strategy.
Federal grants pay for chemical dependency specialists, drug testing and supplies, but the true costs of treatment are intertwined with the costs of staff who provide security and services, which make up the largest share of costs.
The last RSAT Program cycle graduated in August 2018. The program was limited to one cycle in 2018. There were multiple reasons for this, according to Mark Perez, a social worker at DOC.
"The biggest thing last year was the security side, not having enough corrections officers," Perez said.
The current cycle began in February and will finish in August. There are 30 eligible inmates waiting to enter the program.
Interest in the RSAT Program is increasing. About 100 or more inmates sought entry into the program within the last few cycles, but capacity is severely limited at just 17 beds.
Expanding access will require more space to house inmates. Renovating the current facility is not optimal. It is decades old and overpopulated.
DOC is in the process of procuring services to develop a master plan for a new facility, which could facilitate an expansion, according to DOC Director Samantha Brennan. But a new facility will require funding – and it is funding, Brennan added, that is at the core of concerns regarding treatment.
"If we were able to build a new prison, we would look forward to having a facility where we could house at least a hundred people to go through the treatment program. Maybe that could be one of our goals moving forward," Brennan said.
Some avenues for a new facility include a public-private partnership as well as federal grant funding.
Entry into the RSAT Program can be prioritized, through a court order, for example. Conversely, eligibility can be revoked if an inmate commits any violation, including drug use while in prison.
That policy made little sense to Keilani Simmons, a former inmate who underwent treatment at Oasis. Simmons was a yearslong meth addict and had been incarcerated six years prior to entering the treatment center.
The drug wasn't difficult to get inside the prison, at least at first, Simmons said. And because of her violations, she was not eligible for the RSAT Program. At some point, Simmons was no longer using drugs due to stricter regulations at the prison – but without treatment, Simmons felt she would not maintain her sobriety.
She requested placement into Oasis through parole but had to wait months for a space to open. 
The RSAT Program is structured by nature and while inmates who use drugs in prison might benefit more from the program, they may also compromise its integrity, according to DOC officials. That concern doubles back to resources. For example, there is only one officer monitoring inmates in the program at all times.
"When we're going to be vetting people of the many that we have, of course we're going to take ones more willing to be in the program than someone else less willing, because it's going to be more successful for the group as a whole, given all the circumstances with security and staff. We have to weigh a lot of things," said Theresa Tayama, the casework counseling services administrator at DOC.
RSAT not enough
The draft strategy from the Bureau of Statistics and Plans published RSAT Program completion rates from the cycles between 2013 and 2017. The Post calculated an average 77% completion rate based on that information.
Completing the program, however, is no guarantee of success.
Agulto said he completed the RSAT Program in 2000 while serving prior jail time, but he relapsed a week out of prison. Now, he is being recommended to the same program.
"Just because you put me in the program, there's no real-life situation. I'm not dealing with people on the outside. When you step out, life is still the same," Agulto said.
"I remember the first couple of days. I was preaching (sobriety). ... I learned real quick my friends didn't want to hear that. It was just straight up, 'We got a bowl full of ice. Smoke it.' ... I was trying to get that point across, to give me a couple months to complete this drug rehabilitation."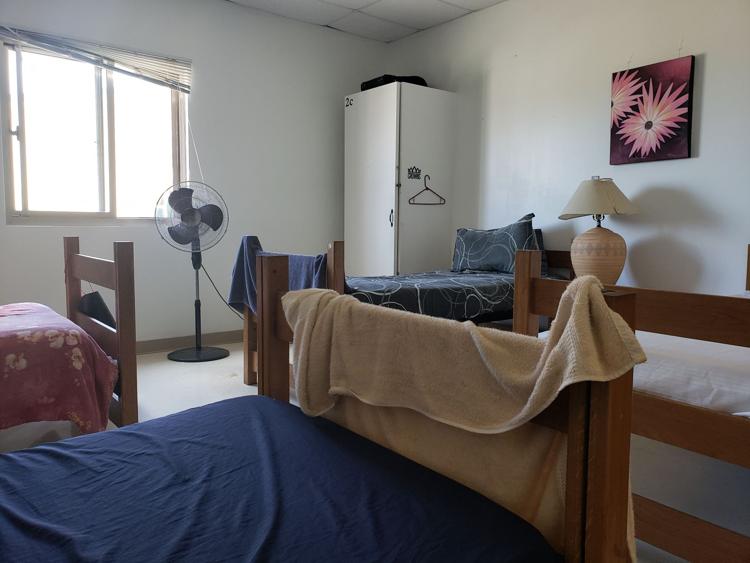 Challenges outside prison
Treatment inside prison must be supplemented with aftercare or community treatment. This was recognized by past draft strategies from Statistics and Plans. RSAT Program funding guidelines require states to coordinate correctional treatment programs with aftercare services.
This is done on Guam through New Beginnings at the behavioral health center. The agency holds contracts with Oasis, Lighthouse Recovery Center and Sanctuary Inc.
The Recovery Oriented System of Care, as the program is called, is the only aftercare program available to inmates who complete the RSAT Program, but it is similarly challenged by the lack of resources, treatment providers and services.
There are about 30 certified substance abuse counselors on Guam inclusive of all treatment providers – the behavioral health center, Oasis, Lighthouse, Sanctuary, DOC and the courts.
"We need about twice more of that amount," said Athena Duenas, program supervisor at New Beginnings, the drug and alcohol treatment branch at the behavioral health center.
There are individuals currently undergoing certification, Duenas said, but the process is extensive, requiring many supervision and education contact hours.
And, as demonstrated, everything depends on funding.
"We could certify individuals but not be able to hire them due to the lack of funding," Duenas said. "(Behavioral Health), DOC, (Guam Community College) and the Superior Court of Guam continue to partner and work on leveraging resources to combat the issues above."
At Lighthouse, there are six certified counselors. The organization would need 10 total to comfortably service the 300 or so individuals who enter treatment every year.
The turnover rate among counselors is naturally high – from burnout and the nature of the profession – according to Lighthouse clinical supervisor Leinani Naholowa'a. The need for services may be further exacerbated as cocaine and the opioid crisis find their way to island residents.
Lighthouse also would like to increase the number of beds it has to service inpatients, but doing so would require even more counselors. As it is now, beds rarely stay open for long.
The result is constant waitlists for residential treatment – a dilemma shared with Sanctuary and Oasis.
The number of people waiting can fluctuate quickly and wait times can last a month at Lighthouse. People seek treatment for different reasons. Some people learn about services for the first time while others simply seek treatment in lieu of jail time. Still, others see a treatment center as a reprieve to a life of crime after prison.
"They may realize, 'I don't have anywhere safe and I don't want to go back into that life of crime,'" Naholowa'a said. "Most times people are pushed back into that criminogenic lifestyle."
Wait times will "absolutely" discourage someone seeking treatment, Naholowa'a added, but Lighthouse assigns a recovery technician to assist potential inpatients or places them into outpatient treatment first, so they aren't idle while waiting for bed space.
The organization could bring in a little more money each year if it charged patients with insurance coverage. At the low end, the cost of servicing an inpatient is $133 per day. But as it stands, Lighthouse needs accreditation to charge carriers.
The federal Mental Health Parity Act of 1996 required mental health benefits to be on par with physical health benefits. Guam enacted a local version of the law in 1998. About 10 years later, Congress passed the Mental Health Parity and Addiction Equity Act to succeed the 1996 law.
According to Jerry Crisostomo, the plan administrator for NetCare Health and Life Insurance, all insurers on island are in compliance with local and federal laws regarding coverage parity. 
"As for treatment center providers, all qualified mental health providers, counselors, therapists, etc. ... must be licensed by the Guam Board of Allied Health (Examiners) and meet credentialing requirements to be approved and credentialed by health insurers to be approved as a participating network provider," Crisostomo said.
Accreditation by the nonprofit Commission on Accreditation of Rehabilitation Facilities isn't required by NetCare, Crisostomo added, but the company does represent insurers who require accreditation under their policies. 
But accreditation on its own requires funding. Lighthouse is looking into budgeting for its next fiscal year. Among the three, only Sanctuary is accredited but does not have a fee schedule. Oasis is looking into a fee schedule but has none implemented yet.
Funding and initiatives
The draft strategy from the Bureau of Statistics and Plans is part of the grant process for the Edward Byrne Memorial Justice Assistance Grant.
Between that grant and RSAT Program funding, Guam has been awarded about $21 million in federal grants within the last 20 years.
In the last decade, about $800,000 was awarded out of the Edward Byrn grant to cover drug court treatment services and the Recovery Oriented System of Care.
But numbers tend to fluctuate. The most recent awards fell to about $50,000 per year. The RSAT Program had remained steady at about $30,000, but the latest award tripled that amount.
Other than annual funding to the behavioral health center and relevant agencies, lawmakers appear to have made just two attempts at direct or supplemental appropriations to treatment centers in the last 10 years, both to Sanctuary; although, a review of the budget laws in the last decade show gradual increases in appropriations for the outsourcing of substance abuse and rehabilitation services, from about $800,000 to $1.5 million annually.
Treatment centers also have access to other federal grants and some funding from the local courts, but it is clear that available monies are not enough.
"Absolutely, many times (we've asked for funding). There is always a huge need for more funding," said Olivia Borja, a clinical supervisor at Oasis.
The behavioral health center is anticipating more funds with the full implementation of its fee schedule – an initiative nearly four years in the making. Therese Arriola, the current head of the agency, said fees could generate up to $10,000 per day, which could then be reverted into capital improvement projects and programs.
New law also promises more funding. The Guam Cannabis Industry Act allocates some taxes from marijuana sales to substance abuse treatment and prevention. But the rules to establish a marijuana industry on Guam may still be about a year away.
The draft strategy from the Bureau of Statistics and Plans is just the latest in a series of multiyear strategies developed by the agency. The issues discussed in this most recent iteration stem back years.
The latest draft offers recommendations for risk assessments and treatment to reduce recidivism, as well as to improve access to aftercare services for those who complete the RSAT Program. 
Outside the prison, Behavioral Health also plans to initially reopen its detoxification unit by July and has asked for about $1 million next fiscal year for its full operation.
Government officials are also looking at grant funding opportunities and programs with the Western Interstate Commission for Higher Education to increase the number of counselors on Guam. 
"It's going to take time to develop all the programs and how we're going to be able to accomplish it," said Carrera. "But I think we are taking measurable steps." 
Notwithstanding the proposed initiatives, it is clear that for those who've already fallen victim to drug abuse and are within the prison system, the options are lacking.
While the RSAT Program provides one avenue for those able to participate, many inmates at DOC are incarcerated for several years, and with the program having limited capacity and reserved for those near release, inmates serve most of their time without treatment for drug addiction.
Without proper rehab services, most inmates will relapse back into a life of crime and substance abuse, and in turn crowd prison facilities, creating an ever-increasing need for corrections officers, the draft from the Bureau of Statistics and Plans stated.
"When we get out to the real world, who are they to make us think we're going to stop like that," said Martina Guanzon, a former drug dealer and inmate. Like many others, Guanzon did not receive treatment in prison and sought Oasis afterward. 
"You can't expect us to come out and think we're going to be perfect out there for the community. We can't do that without treatment while incarcerated," Guanzon said. "So when we get released, we're out facing the world with no tools, no way to cope with how we're feeling, nothing. So they can't just say we got sentenced. ... If you're going to put us away for that amount of time, put us in there for a reason. Get us treated. That's where DOC needs help."
Back on May 10 at the Guam Judicial Center, Agulto waited quietly with his family for the courtrooms to open.
He said Lamorena has helped him through his case by allowing leverage for medical issues and by giving him time to get himself clean, outside of prison and treatment centers, where drugs may still be available. Agulto said he is seeking recovery now because he's had time away from negative influences that might cause him to relapse suddenly. But knowing he will be incarcerated for six years is discouraging.
"The thing that upsets me the most is there was no incentive for doing the right thing," he added.
Agulto has a lot of friends in prison. He had been distancing himself from them as part of his sobriety. His goal is to stay clean and his family has been a major support system for him. In turn, Agulto has become a positive role model for his children, according to his spouse. She was more afraid of him doing drugs in prison than on the outside. The whole situation is unfair, she said. At 6 p.m. May 10, Agulto surrendered himself to the custody of the Department of Corrections. He is currently seeking a sentence reduction.
Lawmakers weigh in
The Post also requested input from lawmakers. The responses were extremely limited, but the few who did respond discussed tackling drug use at the family level and legislation to identify mental health issues and prevent substance abuse from the beginning. Their full responses are below.
• Sen. Régine Biscoe Lee
"While I did not personally comment on the draft strategic plan, I believe we need a multipronged approach to addiction. We need addiction treatment on demand, and that begins by treating addiction and mental health challenges with the same urgency as we treat car accidents, strokes and heart attacks.
"As a community, we've rightly decided it is our legal and moral responsibility to treat the physically sick, and we spend millions of dollars a year at (Guam Memorial Hospital's emergency room) to do it. Until we match, if not exceed, that commitment for mental and emotional health, addiction will not be defeated. When people are ready to acknowledge their addiction and commit to overcome it, our community cannot abandon them to a broken system held hostage by bureaucracy and neglect.
"Second, we need to identify mental health issues as early as possible and work on preventing substance abuse in the first place. This is why I am presently crafting legislation that will incentivize certification in mental health first-aid in our public schools. The training that comes with this certification will aid school personnel in identifying mental health emergencies before they escalate and will allow them to direct affected individuals to available services. The same legislation will also ramp up resources for evidence-based suicide prevention programs, because so long as Guam has one of the highest youth suicide rates in the country, none of us should sleep easily at night.
"Third, I've urged the administration to actively pursue designation as a high intensity drug trafficking area. This designation will dramatically expand our access to federal grants in drug counseling, treatment and interdiction."
• Sen. Kelly Marsh
"With continued high rates of illegal drug use on island, it's extremely important that we find ways to further support drug prevention, education and dependency treatment programs. More importantly, it is critical to also support efforts that tackle the illegal drug issue at the family level, as statistics show supportive families are essential to raising socially, physically, mentally healthy and well-adjusted children and preventing drug use later in life. For example, in other parts of the world, we've seen successfully implemented evidence-based family skills training programs that help to strengthen the attachment between parents and children, as well as equip parents with needed skills to provide supportive parenting, effective discipline, and monitoring. With the help of local experts, this type of initiative is one that we as a government can look into developing as a means to supplement various drug abuse programs."
• Sen. Amanda Shelton
The Office of Sen. Amanda Shelton provided the following response:
"Shelton, as chairwoman of the Committee on the Advancement of Youth (which has oversight over DYA), plans to hold a roundtable on juvenile justice and adult recidivism in June. As noted in the report, most prevention programs are aimed at adolescents already involved in the criminal justice system, while not enough emphasis is placed on at-risk youth who the report says 'are highly vulnerable and susceptible to violence and are likely to escalate as adults.'
"The report also states: 'To help recidivism rates, a focused education and prevention strategy is needed to educate on the realities of having a criminal record, being incarcerated and the serious and complex obstacles many experience as they transition back into society. A focused education and prevention strategy can help improve recidivism outcomes, hold individuals accountable for their behaviors and directly advance public safety objectives.'
"Shelton has already met with relevant stakeholders on the issue of juvenile justice and adult recidivism, including the Office of the Attorney General, the Department of Youth Affairs, Sanctuary and the Federated States of Micronesia Consulate. Shelton hopes to bring together more stakeholders including the Guam Department of Education, Judiciary of Guam and nonprofit organizations to tackle this issue. If we can address at-risk youth before they become adult criminals, we can produce positive outcomes for our whole community."