At this point, we don't have to tell readers that the food is good at Ben N' Yan's Filipino restaurant. The Dededo staple is a hot spot of Filipino favorites, frequented by families who can't get enough of all Ben N' Yan's has to offer – and believe us, they have a lot to offer.
"My favorite here would be kare kare," says supervisor Neil Espino, "but I could eat crispy pata, lechon kawali, all the chasers – everything!"
Headed by Chef Randy Namuco, Espino says that, from prep cooks to assistants and everyone in between, the restaurant crew has more than 40 years of cooking experience.
But everyone knows the best part of any meal is the company you keep. At Ben N' Yan's, food is served family-style, with large enough portions to share with loved ones.
'Family is everything'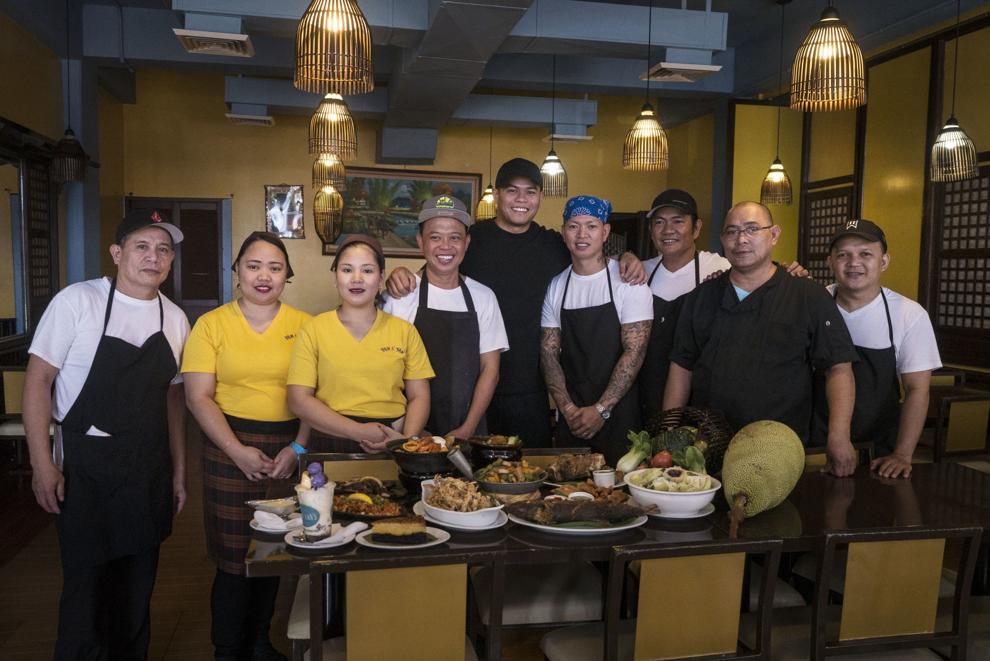 The secret? It is a family-run establishment. In the first place, Espino runs the joint for his mother, Belinita, and father, Salvador, while they travel between Guam and the Philippines. But aside from that, Neil Espino works alongside cousin Davis in the kitchen, and aunt Goldie at the cash register.
"In the Philippines, family is everything – the good or the bad," Espino said. "In the kitchen, like any family household, there's always arguments and there's love. Not everything goes as planned, but at the end of the day we're still family and we still continue to cook the following day and the following day."
Perhaps it's that close-knit relationship (and Chef Namuco's skilled hands) that help make the food at Ben N' Yan's so good.
Crazy for the crunchy crablets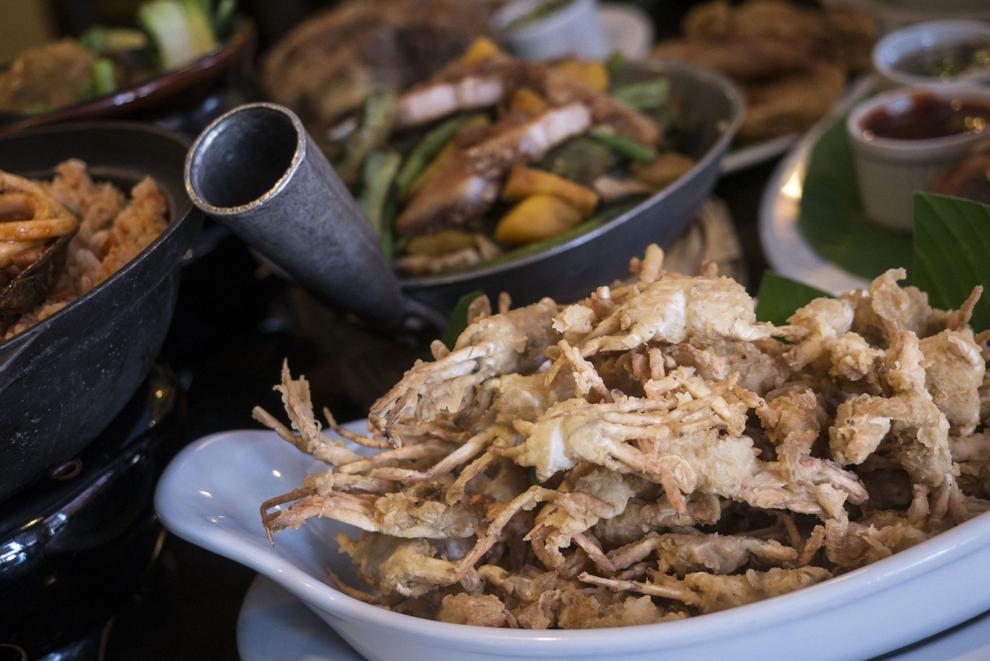 We started our fiesta lunch with a newer item on the Ben N' Yan's menu: the crablets. The crazy cooks in the kitchen take whole soft-shell crabs and deep-fry them until they're golden brown and delicious. And goodness gracious are these things delicious. Ben N' Yan's crablets are as crunchy as a chip, but with all the flavor of a crustacean. It's your new favorite chesa, guaranteed.
We also had a try of the bulalo, keeping mindful to have a pillow next to us for the inevitable nap we were going to take. A bowl of Ben N' Yan's bulalo is the comfort food you know and love, with a rich, satisfying broth and all the cabbage you could want. But of course, everyone orders bulalo for its bula meat. And the Ben N' Yan's bone-in beef shank is something Fred Flintstone would eat. Where's the beef? At Ben N' Yan's.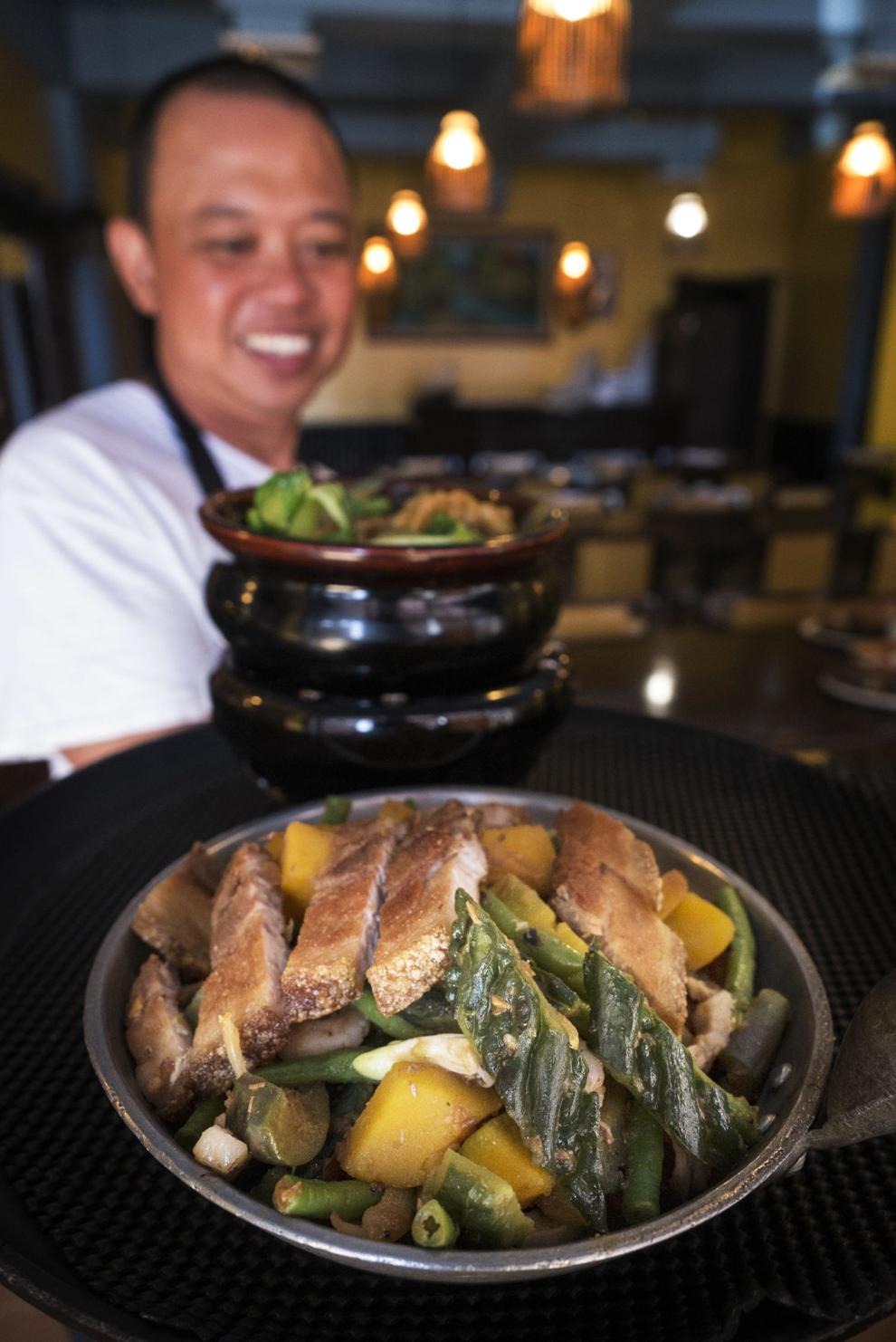 Fresh from our bulalo-induced nap, we needed to try something a little less heavy. So, we piled our plate high with some servings of pinakbet. If you're a hater of ampalaya, or bitter melon, read on. At The Guam Daily Post, we're down for all flavors of the food rainbow. This veggie-centric dish is filled with ampalaya and other healthy eats like bok choi, green beans and squash. Mixed in with some cocktail shrimp and another ingredient we love – the fermented shrimp paste known as bagoong in the Philippines – this dish is not for the weak of stomach, or heart.
Also, God bless the person or people who thought up both crispy pata and lechon kawali. Although our doctor will probably be very upset at our cholesterol levels thanks to consuming both fried pork dishes, we say it was worth it. The crispy pata, a dish made from the fried knuckle of a pig, is everything you want it to be. Crackling pork skin on top, and juicy, tender pork below. Likewise, the lechon kawali, fried pork belly, is tender yet crispy at the same time. Kiss your diet goodbye – drizzle on some Mang Tomas sauce and you're good to go.
Special note: We could have had our orders with white rice, but we decided to get an order of seafood paella, which is a special rice dish made with tomatoes, onions, bell peppers, carrots, calamari and shrimp. Want to take your Ben N' Yan's meal to the next level? Try out the paella.
Why not have it all?
At the end of our meal, we wanted to top off our day with one of several desserts offered at Ben N' Yan's. However, we had a dilemma. What to get? Did we want leche flan with its creamy custard and caramelized topping? What about sapin sapin, the sugary and coconut-flavored gelatinous rice dish? Or maybe some wonderful cassava cake or biko, a kind of rice cake? Well ... why not have it all? Ben N' Yan's has a four-in-one dessert for everyone who needs a taste of it all.
Remember, the dishes we covered here were just the start of what could be your next favorite lunch or dinner. Head to Ben N' Yan's and experience the authentic Filipino flavors for yourself.