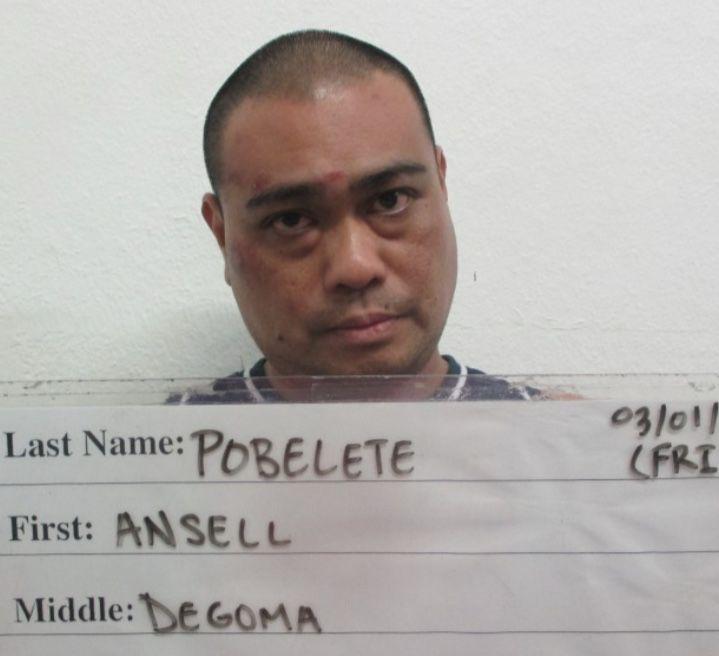 It was a gut feeling.
Tamuning resident Carl Peterson, a longtime Guam businessman, said he acted fast the moment he spotted a strange man inside his home Wednesday night. Peterson was unaware the incident would unfold into a police chase for miles all the way to Yigo, a lockdown at Andersen Air Force Base and the fatal shooting of the alleged intruder.
"I'm standing right by our kitchen table with the dog on the leash. I'm about 4 or 5 feet the backdoor," said Peterson, a Navy veteran. "And all of a sudden, 'whoom' somebody jerks that door open"
The police blotter identifies the suspect as Ansell Degoma Poblete.
Peterson said he had just received eye surgery that day and was about to take his dog out for a walk. They were waiting for his wife to change her clothes. He recalled the moment he came face-to-face with his home invader.
"I'm looking at him kind of surprised and I said, 'Who are you?' His eyes were wide open with no expression."
The suspect told him he was fixing his car in the backyard when Peterson asked what he was doing at his home.
"I said 'No you're not. What are you doing with that gun?' He just takes it off his shoulder, points it at my head and boom! I could feel the air go right over my hair. But, I knew it had to be a pellet gun or something because of the noise it made."
Peterson said he walked toward the suspect, who then slowly backed away. He was able to close enough to quickly shut the door and lock it with the suspect still inside.
Peterson then called 911, but the suspect got away.
"I went outside and the cops had surrounded the house and had their guns drawn and was trying to find him, but he had already left," he said.
His neighbor's security camera captured the suspect vehicle in the area along Ypao Road in Tamuning.
He said his neighbor described the car to be the same Toyota Sequioa involved in the incident at Andersen Air Force Base.
The Naval Criminal Investigative Service and the Air Force Office of Special Investigations are looking into the August 14 incident.
However, the status of the investigation has not yet been revealed.
On Wednesday, police chased the suspect's vehicle believed to have been involved in the home invasion at Peterson's home towards the base.
The suspect rammed through the front gate and crashed his vehicle before he took off on foot.
The base was briefly placed on lockdown, as a manhunt for the suspect continued throughout the night.
It wasn't until early Thursday morning when members of the 36th Security Forces Squadron and Guam police found him.
"The suspect responded aggressively" the military confirms, "and stabbed a Department of Defense civilian security forces member." He was then shot by one of the arresting officers "in self-defense."
The suspect was killed.
The civilian security force member who was stabbed is recovering and reportedly doing OK.
According to records at the Department of Corrections, Poblete was arrested back in March on suspicion of assault, family violence, assault on a peace officer and escape.
Poblete was arrested in the March case for allegedly kicking and pushing a woman in a Dededo house.
Poblete allegedly struck a responding police officer in the chest with his elbow and struck the officer's shoulder with his fist. A second officer arrived and together they were able to subdue him. 
Despite the events that occurred, Peterson said he is just thankful his family is safe.
"Of course, we are very thankful for the way it turned out. You never know how you are going to react to stuff like that, but I had to do something and I had to do it quickly. I was just aggressive in my voice," he said. "So my gut feeling was I just got to do something right away or this could be a situation."
"You got to stay calm, but you got to take charge."
Peterson first arrived on Guam in 1965 in his capacity as a linguist in the U.S. Navy who was trained in Russian and was dually trained in cryptology. His military service had brought him to Asia, where he learned to speak conversational Japanese and he so liked Guam and its people that he decided to stay.
Peterson is president and founder of Money Resources Inc. He was inducted into the Guam Chamber of Commerce Hall of Fame as the organization's 2015 Individual Laureate.
Peterson also in recent years served the role of a civilian aide to the Secretary of the Army.