It was 1996.
A 13-year-old girl who had just relocated with her family to Guam from the Philippines was looking forward to starting the seventh grade at what was then called Dededo Middle School.
"We just got here. That was my first year attending school at DMS," the victim said. "It was a good move for us."
At the request of the victim, who is now 37, The Guam Daily Post will not be releasing her identity for her family's protection.
It was more than two decades ago when she first came face to face with Paul Santos Mafnas Jr.
"I was approached by him. He asked me what time the school starts. I was on my way to school walking to the bus stop," she said.
Her bus stop was located in the Liguan area of Dededo.
"I told him I'm not sure and then I keep walking and I keep walking, and the next thing I know he basically was behind me and told me to go inside the car," she said. "I don't know if there was a gun or a knife, but I felt something on my side.
"The only thing I could think of is remember stuff that I could tell somebody. I had mixed emotions like, 'Am I going to be dead?' 'What does this guy want?'"
She was forced to get into his car. Her classmates waved from her bus stop, as Mafnas drove by.
"I was so afraid that I just waved back. I didn't know how to react."
Mafnas drove her to a jungle area near Two Lovers Point.
"I can still remember exactly what happened that day. Like it was just yesterday," she said. "I remember he took my planner and he kept telling me he knows all my friends. He told me my whereabouts after school. He said if I told anyone he would go after my friends next."
And then Mafnas raped her.
"He forced himself on me and while he was doing that he said I'm a b---- now and nobody would want to go out with me."
The entire incident, she said, was horrifying.
"I was crying. I was scared because I didn't know and all I was thinking about is if I am going to survive. I wanted to be alive," she said. "I wanted to go home and get through what was happening at that moment."
She said Mafnas then dropped her off at school, and that's when she immediately told her friends she had just been raped. She was taken to the school nurse and a police investigation was launched.
The victim identified Mafnas in a photo lineup provided by police.
After she reported the rape, three others – two 14-year-old girls and an 18-year-old – later spoke out.
She said each of them shared similar stories of their encounter with Mafnas.
At the 1999 trial, she said she had to face Mafnas again.
"He said that he was molested when he was younger and that's why he did what he did," she said. "I was so mad because he doesn't have the right to do that to anyone. He knows how it feels, then he shouldn't have done anything."
Mafnas was sentenced to 27 years in prison.
"It wasn't enough. He should've just stayed in there."
The victim has since relocated to the states.
In 2014, Mafnas was let out on early parole.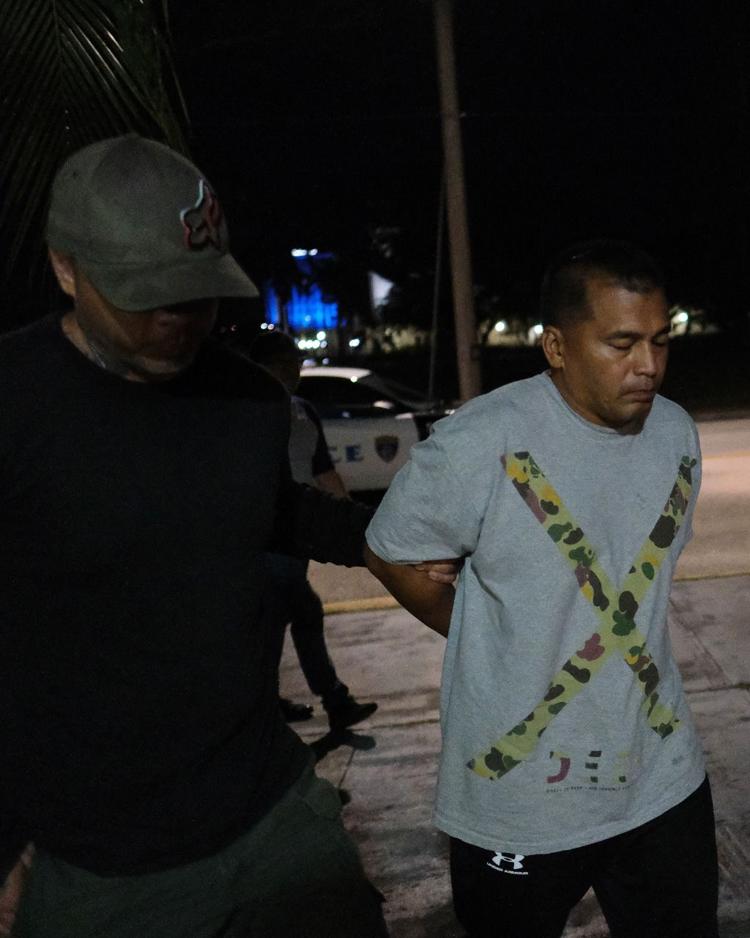 The victim's family appeared at the 2018 parole board hearing on her behalf, as she said they fought to keep Mafnas on parole.
"We had to move on, but again it shouldn't give them a reason to release him early because he is going to do it again," she said. "It's not about the closure. It's about him, he is sick in the head. He should stay in there."
His five-year parole was cut short by a year, and Mafnas was back out in the community.
Parole board: 'We do our very best'
Guam Parole Board Chairwoman MiChelle Taitano stated she is "heartbroken" that the child sex predator has been accused in the recent kidnapping and rape involving a 10-year-old victim.
On Saturday, Mafnas, 53, was arrested and charged with multiple counts of first- and second-degree criminal sexual conduct, attempted first-degree criminal sexual conduct and kidnapping.
He's accused of kidnapping a student on her way to school and sexually assaulting her in a vehicle in an abandoned parking lot while threatening her with a gun. Mafnas told investigators that "sexually assaulting female minors is an addiction of his that he can't resist," according to court documents filed by the prosecution.
"I am way heartbroken this has occurred. This man did well on parole, and prior to his release, our parole reports, interviews had positive outcomes of a changed life," Taitano stated.
"Unfortunately, I/we are unable to guarantee the actions of individuals on parole status or beyond that. We do our very best to ensure folks avoid re-offending."
Taitano said, "I've been praying for the victim, her family, this situation, for her healing, our community's healing and the improvements of our processes. Please pray for them and us. Thank you."
Sen. Amanda Shelton, chairwoman of the legislative committee on the advancement of women and youth, in a separate statement called for a legislative oversight hearing into the parole board.
Shelton asked Sen. Therese Terlaje's committee, which has oversight over the justice system, to hold the oversight hearing to discuss the parole board's processes. Shelton also said she will consider legislation to ensure that predators with "self-described addictions to sexually assaulting children are never put back on our streets again."
Terlaje, in an email to Post, stated she had already set aside a date to hold a stakeholder meeting or roundtable on May 6 – prior to Shelton's letter.
Terlaje stated she believes "a formal review of sentencing, parole, and treatment guidelines for sex offenses is in order and will ask stakeholders to give input."
'They failed,' victim says
"They failed by releasing him early," the 1996 victim said. "Of course he is going to show good behavior while he is in there – because he is in there. He had no contact with little girls or minors."
She was upset to hear that he allegedly victimized another little girl.
"I was mad. This is bull----. He ruined another person's life."
The victim said she remains troubled over what happened to her but has since worked on taking back control of her life.
Prior to leaving Guam, she volunteered with Victim Advocates Reaching Out and earned a degree in criminal justice at Guam Community College.
'Just keep him in there'
She said she hopes the justice system is tougher this time.
"Whoever the judge is should consider what occurred with the four victims and consider what happened right now, and they should just keep him in there."
As for her message to her attacker's alleged latest victim, she said, "I'm sorry that it happened to her. I hope she is strong enough to get through this. Hopefully, she can get the support."
Mafnas is scheduled to appear back in court for a preliminary hearing on April 25.