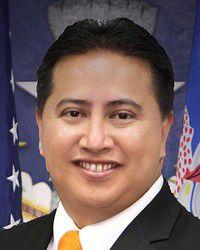 Northern Marianas Gov. Ralph Torres released a statement Thursday evening saying he's cooperating with authorities after FBI and other law enforcement conducted a series of raids that included the governor's office on Capitol Hill.
Here's the governor's full statement, released by spokesman Angel Demapan:
"I hold the highest respect for all law enforcement officials on and off duty. At this time, paramount of my own responsibilities as both governor and a citizen is to provide the fullest measure of cooperation to any of their requests of me and of my staff.
My priority has always been to continue in pursuit of what is best for the CNMI and its people. This has not changed.
In every opportunity I have been given to serve this community, I have raised my hand and have sworn an oath to uphold the Constitution. A part of this oath is to respect our system of laws and to allow these processes to take their course.
As information is provided, I will continue to do what I have always done, which is to support the goals and aspirations of the people I serve and to remain worthy of this privilege that has been given to me. For this reason, I look forward to continuing to do this important work with the utmost integrity.
Thank you for your understanding and support."
The nature of the investigation has not been known.
The offices for Imperial Pacific International, Saipan's major casino operator, were also searched.