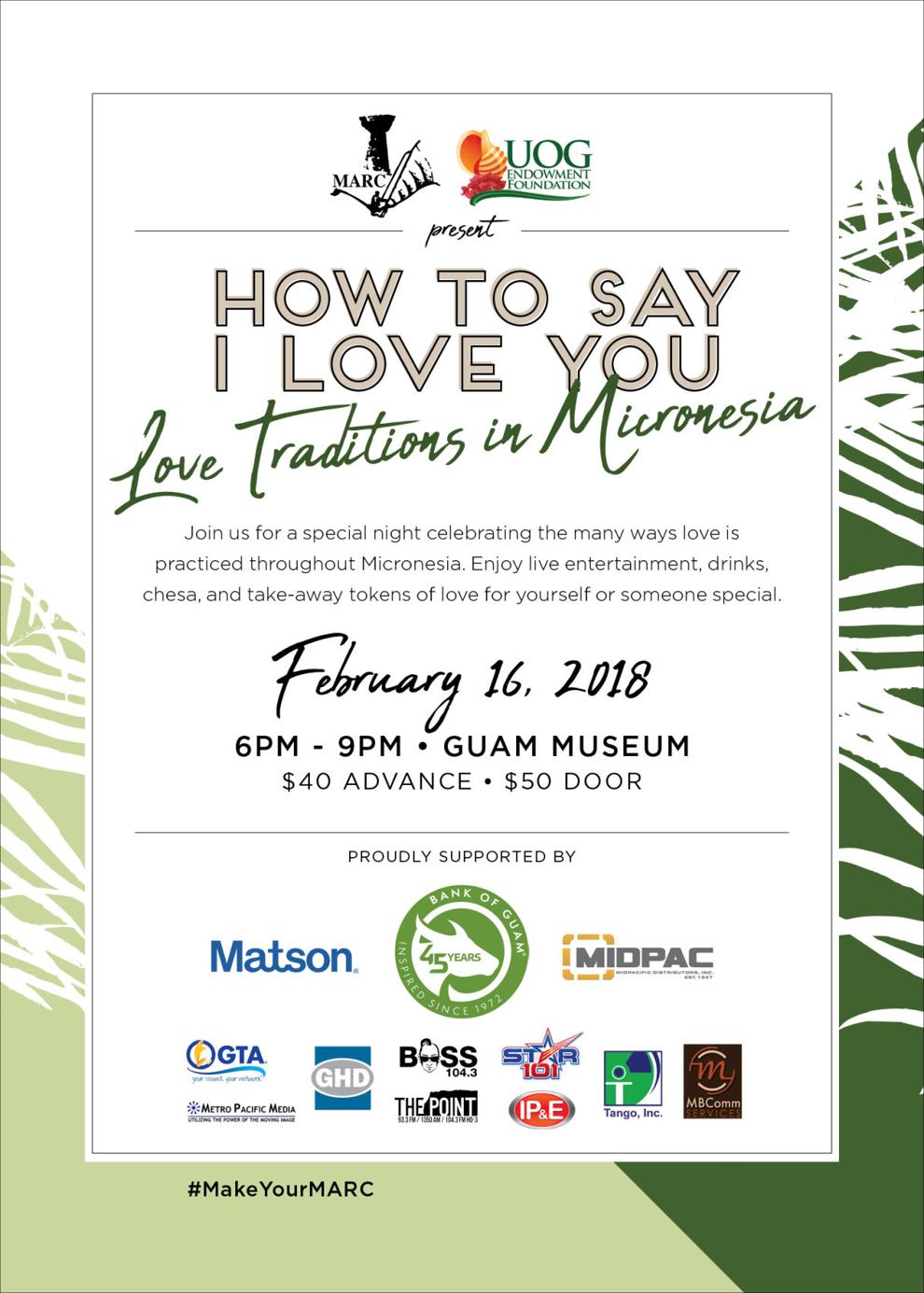 The University of Guam Endowment Foundation is ready for love to fill the air at an upcoming event at the Guam Museum, with proceeds to benefit research projects around the region.
The "How To Say I Love You – Love Traditions in Micronesia" event this Friday will be "a mix of love, history and culture brought into a contemporary setting" with all proceeds to benefit the Marianas Area Research Center (MARC), according to Myracle Mugol, development coordinator at the UOG Endowment Foundation.
"The Richard F. Taitano Micronesia Area Research Center houses a wealth of information, and themes of love is included," Mugol said. "(The UOG Endowment Foundation) helped them build this event around it."
Mugol confirmed that taking center stage will be exhibits demonstrating ways love is expressed and "proven" around Micronesia. Expect static displays from different cultures including mwar-mwar making, a CHamoru komplimentu performance and love potion giveaways.
According to a press release, other "tokens of love" from different cultures will be shared with guests as well.
Mugol said the Bank of Guam, Mid-Pac Distributors Inc. and Matson Inc. were instrumental in bringing together the event.
Craft beers and wine will be served alongside a "kelaguen bar" and other local finger foods.
Live performances by Andrew Gumataotao and Patrick Palomo are scheduled, and the Guam Museum's current exhibit, the "Treasures of FestPac," will be open to guests.
Tickets are $40 in advance and can be purchased at the MARC office at the University of Guam or at the UOG Endowment Foundation. Tickets will be sold for $50 at the door.