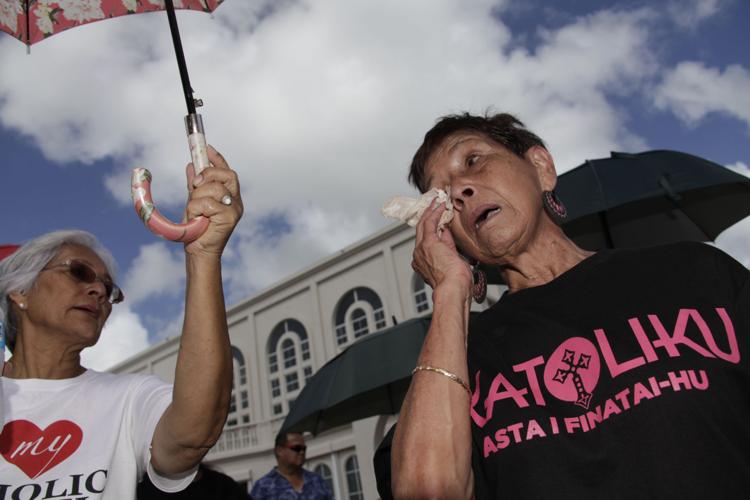 The mother of the late Joseph "Sonny" Quinata is outraged with a recent statement issued by the island's suspended Archbishop Anthony Apuron denying all allegations that he sexually abused boys on Guam, including her son.
Edith Doris Concepcion said she read Apuron's statement in disbelief.
"He's looking to gain sympathy and put the attention on himself," she told The Guam Daily Post.
Apuron broke his silence after more than a year away from Guam. He left the island after Quinata, Roy Quintanilla, Roland Sondia and Walter Denton came forward, publicly accusing him of sexually abusing them when they were former altar boys at Our Lady of Mount Carmel Church in Agat.
Anthony Apuron's nephew, Mark Apuron, also came forward this month and accused his uncle of raping him in the Chancery bathroom during a social function in 1990.
Anthony Apuron vehemently denied the allegations and said he believed the claims against him were "mentored and promoted by the same source" to influence the verdict of the Vatican trial as a "last resort" out of fear that he may be exonerated. The statement went on to say he prays the truth will prevail and his accusers are "filled with what they desire."
He stated he had just undergone another surgery and faces the "final judgment approaching."
'Sad excuse for a human being'
"As a mother whose son was abused, molested and raped by Apuron, my honest opinion of that man is he is a pathetic, poor, sad excuse for a human being," Concepcion said.
In 2016, Concepcion's other son, John "Champ" Quinata, testified before lawmakers telling of a promise he kept to his brother, Joseph, for 38 years. He testified that Joseph had confided in him after he had been allegedly raped by "Father Tony" when he was 9 years old. The two brothers had plotted to burn the priest's house, but were caught in the process, Post files state.
Last year, Concepcion testified before the Vatican tribunal, providing information she received from Joseph before he died.
'He believes in his own lies'
She described the disgraced archbishop as a liar.
"He would never take responsibility for his actions because in his mind he has done absolutely nothing wrong," Concepcion said. "He believes in his own lies and even convinced himself he is telling the truth."