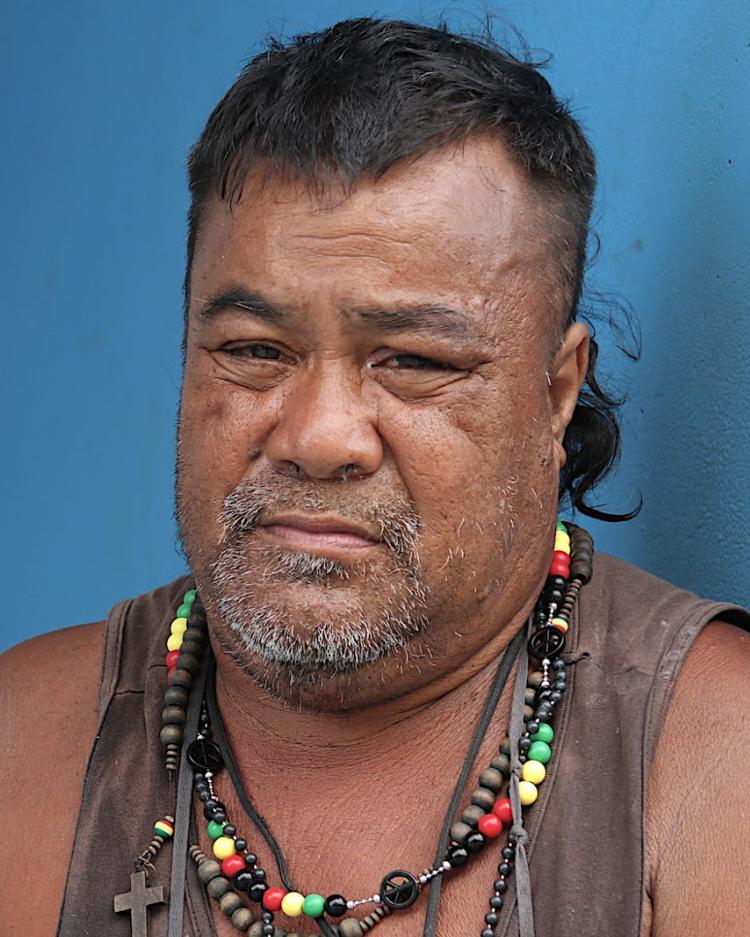 Just a few weeks ago, Fangonom Ukuk was living at a bus stop, exposed to the elements and surviving on a few dollars here and there from passersby.
His future looked bleak.
But when his story garnered media attention, the reaction from the majority of the community was not one of scorn but one of compassion.
This compassion prompted action.
Ukuk, who had come to Guam in 2002, became homeless after the death of the parent he had been living with. Instead of jeopardizing the eligibility of other family members who were living in government-subsidized housing, he took to the streets, according to University of Guam professor and former Chuuk Gov. Ansito Walter.
Ukuk may have remained on the streets if not for the intervention of Walter, Yigo Mayor Rudy Matanane, the Federated States of Micronesia Consulate on Guam and the Office of Sen. Clynt Ridgell, who also is of Chuukese descent.
"It was really a collaborative effort," Walter said.
Today, Walter said, Ukuk is back in Chuuk living comfortably, surrounded by family instead of trash.
"Now, he is eating fresh breadfruit, fresh taro and fresh fish," Walter said. "Nobody is homeless in Chuuk. The family system is still very strong."
Unprepared for 'modern world'
Ukuk is not the only citizen of Chuuk who has come to Guam and fallen on hard times.
Walter said a lack of education about what it will take to live on Guam leaves many who emigrate from the Federated States of Micronesia unprepared for life in "the modern world."
"I don't think they think about the challenges they will encounter on Guam," Walter said.
Edification on survival skills should begin before they leave their home island in search of a better life in the United States, Walter said.
"They should teach them that they need to have the skills and language to survive in this kind or environment," he said.
Walter said that when he makes return visits to Chuuk, he tries to impress this upon the residents.
"I share with them that when you come to Guam, respect is very important. You have got to respect the people of Guam. You have got to come with the skills," he said.
Respect, Walter said, is an inherent value of his people. "They are respectful people. They are hardworking people," he said.
But the lack of preparedness and absence of life skills can lead to situations such as Ukuk's, or worse: a downward spiral that ends in violence and crime.
Walter said at times he feels "embarrassed" when hearing of crimes committed by FSM citizens.
"Sometimes, I feel guilty because it shouldn't be that way. If we take the responsibility to train these young people early in life, they would not be that way," he said.
Walter, who holds a doctorate in philosophy and teaches courses in public administration at UOG, said orientation about relocating to Guam or other parts of the United States should begin in elementary school and continue through high school.
Cultural differences also can contribute to a struggle in acclimation once on Guam, Walter said.
He said Guam has more of an individualistic culture, while the FSM has a more communal way of life.
Community or familial support, once available in their homeland, may not be as readily available as expected when they relocate to Guam.
"When the future unfolds, it's a different story," he said.
Walter said help can be offered once FSM citizens arrive on Guam, and much of the assistance is offered by churches or FSM community organizations.
"We have a responsibility to help them because they are more in need than you or I," he said.
Walter said that while there is still much to be done to improve the likelihood of success for FSM citizens coming to Guam in search of a better life, Ukuk's story highlights that our community can come together as a whole to lift one person out of seemingly hopeless conditions and into a more humane way of life.
"Something good came out of that situation," he said.