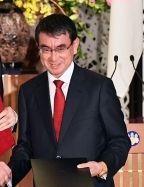 Hours after Japan's Kyodo News agency reported that the vice foreign ministers of Japan and South Korea are meeting on Guam on Friday to talk about ways to dial back their escalating dispute over trade and the legacy of World War II, it appears it has been taken off the calendar.
Both Japan Times and Reuters News agency cite the Kyodo report, which quotes unnamed diplomatic sources regarding the meeting.
However, on Wednesday evening, the Korea Herald reported that Seoul's Foreign Ministry refuted the reports. 
"All the reports about the vice-ministerial level talks are not true. I do not know why such reports are being made," Korean Foreign Ministry spokesman Kim In-cheol told the Korea Herald.
The revelation of the closed-door meeting on Guam may have pressured them to cancel it, the Koreal Herald stated. 
The Kyodo report stated that Vice Foreign Minister Takeo Akiba would represent Japan, while South Korea's delegation would be led by First Vice Foreign Minister Cho Sei-young.
Guam was chosen as a "neutral setting" to avoid the possibility of "a heated public response from either side," according to the report.
Reuters reports that relations between Seoul and Tokyo have "deteriorated sharply" after Japan imposed restrictions on exports to South Korea and removed Seoul from a list of favored trading nations. South Korea in turn has retaliated by deciding to "drop Japan from a similar fast-track trade list."
In its report, the Japan Times speculates that "Tokyo is expected to repeat calls for Seoul to prevent Japanese companies from incurring losses following South Korean court decisions ordering compensation for people who claimed they were victims of forced labor during Japan's colonial rule of the Korean Peninsula from 1910 to 1945."