Editor's note: This is the ninth story in a series highlighting an individual's experiences on the road to substance abuse recovery on Guam. The series aims to shed light on Guam's need for resources to effectively administer its drug treatment programs.
Matthew Bowman arrived on Guam with only a backpack and $10 in his pocket. A change of clothes and a bit of money to burn was the normal way of life for the kid out of Virginia. Now at 40 years old, Bowman has spent the last two decades wandering from city to city, getting high on heroin and other drugs, and coming into close contact with death.
He attempted to clean up a few times but wasn't around the best people. It's people that make the greatest difference, Bowman said.
So, about a year and a half ago, he hopped onto a plane from Hawaii to Guam. The catalyst: He met someone vacationing on Maui who told him about programs available at their neighbor in the Pacific.
"I decided I needed to change my life," Bowman said. "And then I met somebody that lives out here on Guam ... I just picked up the phone and was like, 'I hope this person's serious.'"
That person was a staffer at Oasis Empowerment Center, where Bowman would ultimately attend as an outpatient. On Guam, he maintained sobriety for about a month and then relapsed – hard – before bouncing back as he proceeded with treatment. Bowman first attended the Lighthouse Recovery Center, which operates the only male-exclusive inpatient program on island. He would later move on to different recovery groups and programs.
When The Guam Daily Post spoke to him in April, Bowman was one year, three months and nine days sober.
"I stay very connected with recovery scenarios. Those are my people," he said. "Being around somebody that knows the struggle and came from the struggle themselves, you know, it helps. It just helps."
Bowman lived homeless for a good portion of his life. He began at 18 years old, sleeping on cardboard mattresses in the streets or in shelters, and bathing mostly in creeks and lakes – wherever there was somewhere to wash up. He hated waiting just to shower at a shelter.
He said he enjoyed traveling as a child, but walked away from a difficult situation when he finally left home.
"I came from a pretty dysfunctional family. At first it was really good. My dad was in the service for 22 years," Bowman said. "I grew up moving around a lot and I absolutely loved it. He was always a drinker but it didn't become really bad until I was a teenager. And then s--- hit the fan."
Leaving home
Bowman got addicted to heroin and left home. Drug use in the family would eventually lead to losing the house. His father allowed its foreclosure, Bowman said. By that time, an older brother was in prison for gun possession. Their parents were divorced as well. Bowman's sister and their mother moved to an apartment in another Virginia county.
"And then my mom's alcoholism takes off," Bowman said. "S--- just got bad. I ended up on a Greyhound bus and I just went out to California and I stayed homeless out there for a while."
Bowman kept notes on the places he visited throughout his travel. California was where he stayed the longest. Otherwise, it would be rare to hunker down in one city for a year.
California gave him a reason to stay. He met a girl and, for a time, worked a small job at a pet store. The relationship was good and Bowman kept a roof over his head. He was 19 then.
"Of course, I screwed that up."
Bowman was more a methamphetamine user than heroin junkie at the time. Everyone carried meth around, he said. It was the party drug. Bowman said he could work and function under meth, but he would eventually return to old habits.
"I missed (heroin)," he said. "I didn't like life. I wasn't really happy with life at all, the things I saw in it. I figured, 'Might as well go back to heroin, life sucks anyway.' So that's what I did."
The relationship would end after five years. Bowman's girlfriend returned to Japan after her student visa expired.
He was on the streets of North Hollywood in Los Angeles when he met another woman, a face he'd known from the neighborhood. She took him in.
Her family had criminal ties, but that only made drugs easier to access.
"She didn't like me using heroin but she would bring so much meth and (cocaine) back and allowed me to drink and everything, as much as I wanted. I remember being with her for a couple of years. And of course that messed up. After that it's just been on the streets," Bowman said.
Methadone withdrawal
He attempted to kick heroin a few times. Bowman traveled to cities that offered methadone to the homeless. Methadone is an synthetic opioid used to treat heroin addiction. Like heroin, methadone binds to the brain's opioid receptors but lingers longer in the body, reducing heroin cravings and easing withdrawal symptoms.
But also like heroin, methadone can be addictive, particularly when used without proper supervision. And while meant to ease heroin withdrawal, some describe methadone withdrawal as more severe.
That was true for Bowman.
"I thought I was gonna commit suicide a couple of times because it was so bad. ... It feels like every one of your joints, everything's been smashed with a hammer. And it feels like this every second," Bowman said.
"It depends on what opiate you're withdrawing from. Synthetics are worse than heroin ... methadone though, you're easily going to be sick for a month. A lot of people die not from the opiate withdrawal, but because they can't hydrate themselves. They're throwing up everything in their body."
The symptoms are easier to manage when you're young, but the years do take their toll, Bowman said. At this point, he feels he can refuse heroin if he saw it again. But Guam is ideal, he added.
"You could get a bag for $5 in certain cities," Bowman said. "So every time I tried to get clean, it's nothing to get $5. ... I don't see any dealers out here selling $5 bags."
Bowman was on methadone and other opiates for years. While in Denver, Colorado, he was forced out of a methadone clinic due to his behavior. He couldn't enter another clinic and couldn't get more of the drugs. He began replacing opiates with meth.
But the only thing that helps opiate withdrawal is more opiates.
"I remember in Denver, when I got kicked off that clinic, my cousin was just feeding me meth," Bowman said. "Like, 'God, I'm afraid you're going to die, (Matt).'"
Bowman eventually made his way to a program in Albuquerque, New Mexico, where they detoxified him using Subutex, another drug used to treat opioid dependence.
"The problem is right when I got out, I thought I could use (amphetamines) again. I'm popping Adderall and chewing meth again. I don't know, man. I just lived like this for so many years."
It was about three years ago when Bowman's mother, still working in Virginia, got the call from doctors in Boston. Her son had overdosed and they told her they believed he was going to die.
Bowman was at a methadone clinic in Boston when he consumed a large amount of psych meds during a drug-induced blackout.
He woke up two days later. He wasn't breathing and had to be intubated. Bowman doesn't recall what happened but a friend told him he had been talking about suicide.
Doctors searched through his phone and called his mother. They learned about his hospital visits and history with overdosing. Overdoses used to occur regularly, he added.
His mother flew out to see him. She was afraid to leave him in Boston and Bowman felt a bit of fear himself. They both decided to have him return to Virginia.
"We talk about it to this day," Bowman said. "Sometimes when she brings it up you hear the pain and the hurt, you know. She'll be like, 'Matt, I really thought you were going to lose your life.' She'll try not to cry when she's telling me this. She always expected that call, you know. Because I showed them nothing better than that."
In Virginia, Bowman drank a lot of whiskey and abused benzodiazepine – psych meds used to treat anxiety, insomnia and other conditions.
Finally, his mother asked him where he wanted to go and Bowman decided he wanted to see Maui. The same habits followed him to the island, however. He found morphine there and began abusing meth and morphine, and drinking more alcohol.
Bowman would spend about one year on the island. He stayed clean for some time but relapsed after getting hold of Valium – more psych meds.
He got lucky one day and happened on a sturdy backpack in a park in Lahaina – the same bag he would take to Guam. He crashed a girl's pickup truck at one point and, before leaving Maui, experienced a frightening series of seizures walking down a dirt road in Haiku, toward transportation destined for a detox center. The seizures would ultimately last a day. Bowman thought he would die.
He would spend 11 days in detox before traveling to Guam.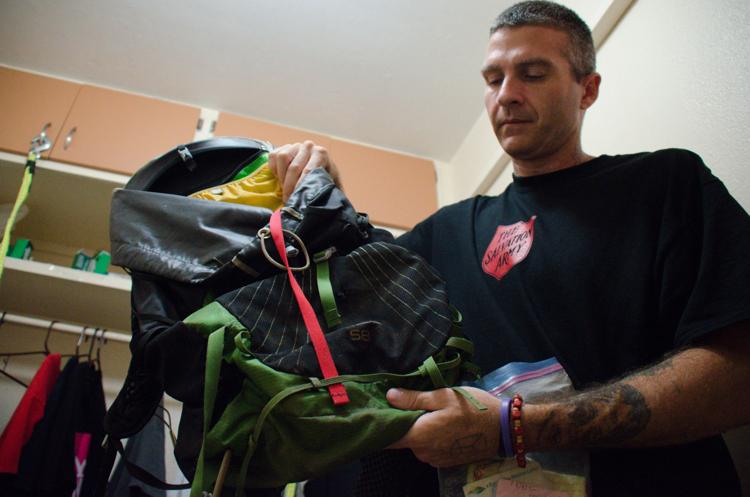 An important date
Here on Guam, he spent 45 days waiting for an opening at Lighthouse. He spent nearly all that time sober, except for one day, when he thought he could handle a bit of alcohol and got hold of some vodka.
"I slept out all night and people were taking care of me. These cool Chuukese I ran into, one of them put a nice blanket on me and one of them was giving me water and feeding me. That's all I remember. And then I woke up in the hospital," Bowman said.
Doctors told him the burning sensation he felt on his side was his pancreas. Bowman already had a damaged liver and had contracted hepatitis C from years of sharing needles. Going any further would kill him, doctors said.
Bowman left the hospital on Jan. 8. That became his sobriety date.
He was placed into a detox program shortly afterward and then proceeded with recovery at Lighthouse.
The first two months were difficult. Bowman didn't believe he would stay sober.
"I felt like the biggest loser. I've lived on the streets my whole life, I'm uneducated, no work experience, no job skills, nothing. And I'm just beating the s--- out of myself."
But if there was anything Bowman learned in recovery, it was to not give up. And eventually, things got easier.
"There was some hard times, but I learned to just hang on," Bowman said. "There's a better way of life. It's a no-brainer from how I used to live to how I live now. And to pick up a drink or a drug to me, would just be f------ stupid."
Bowman attends recovery classes nearly every day, and sometimes multiple classes in a day. He is also undergoing regular medical checkups. His hepatitis was undetectable when he spoke to the Post.
Looking forward to travel
He now lives in an apartment in Tamuning, a far cry from the city streets and shelters he had become accustomed to in years prior. Stack after stack of DVDs and Blu-rays line the base of his bedroom walls.
"There was a time when I lived in shelters and had no choice on what to watch," Bowman said. "When I'm working for people, they'll be like, we have Hulu and Netflix. We know you don't have that, so here. So I just kind of accumulate things. Because they see that I'm trying and they just want to help."
Resting among old blockbusters is various literature on recovery and treatment. On the wall above Bowman's bed hangs his "recovery shrine," where he's posted various letters, certificates, birthday cards and photographs of friends – some no longer alive.
But life now is good, Bowman said.
He kept contacts throughout his travels and is now reaching out to people – the good ones, he added. Bowman speaks to his mother and sister regularly and is attempting to reconnect with his father.
In a small room just past the bedroom sits the backpack Bowman found in Maui – still in good condition, save for patches of dirt where he'd fallen a few times during his seizures in Haiku. The bag serves as a memory, Bowman said – of nothing good, but nothing too terrible either.
"Just memories of, 'Yeah, I don't ever want to go back to that,'" he told the Post. "Every time I see this bag, that's what I think of. The last of my adventures. I love to travel. I absolutely love traveling, but not the way I did my whole life. I want to travel drug- and alcohol-free. And I will."
'I just had to write it down'
Bowman was initially hesitant to speak about his experiences. He didn't see any reason for it, he said. But on the night prior to meeting with the Post, Bowman thought of a short message and wrote it down on paper.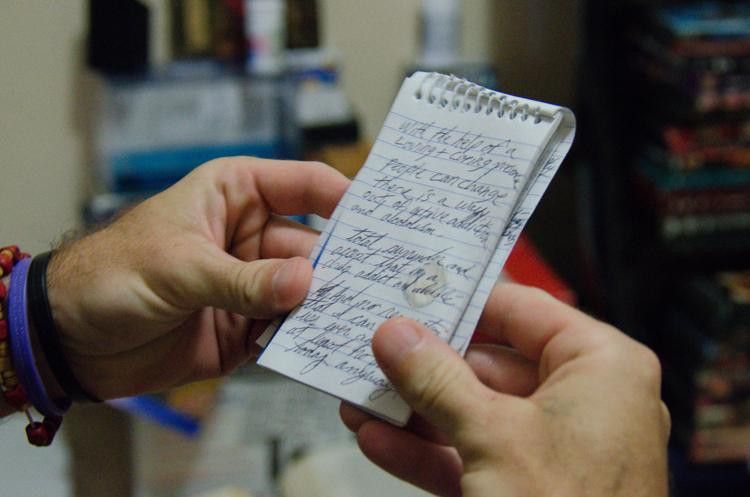 "With the help of a loving, caring presence, people can change," he said.
"There is a way out of active addiction and alcoholism. Totally surrender and accept that I'm a drug addict and alcoholic. And I can have no reservations to safely use ever again, at least not for today anyway."
"That's what it is for me. That's what helped me," Bowman added. "So it's up to whoever reads this. ... Because I wasn't going to do this. And then I was talking to a couple people and they said it can help somebody. And then somebody said, 'No. It will help somebody.' I was thinking of it last night. But this was what was going on in my mind, and I had to just write it down."