Thursday, August 5th, 2021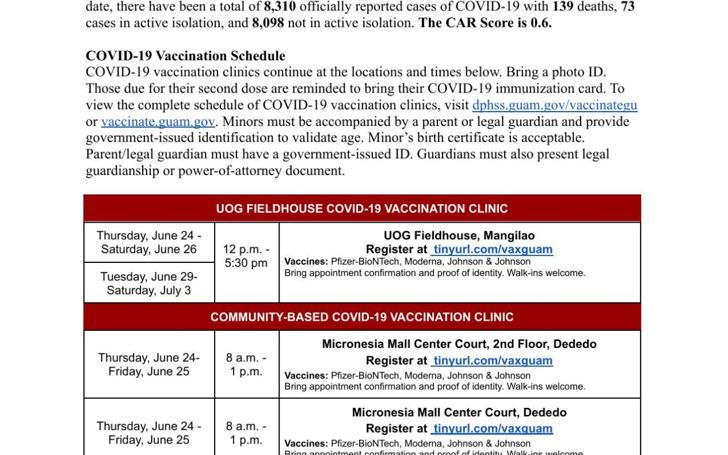 While the number of residents getting their COVID-19 vaccines increases, there continue to be COVID-19 cases on island. Recently a group of 18 residents were confirmed positive for the virus. 
---
The U.S. Centers for Disease Control and Prevention confirmed 17 virus samples were variants of concern.
---
Within hours of Thursday's opening of COVID-19 vaccines to 12- to 15-year-olds, some adolescents were already getting their first dose of the Pfizer vaccine, and other families are now making plans.
---
Vincent Mafnas, 42, said he believes he's done all the things he needed to do to keep himself from getting COVID-19 over the past year and had long been thinking of getting vaccinated against it, too.
---
Guam is unlike many localities on the U.S. mainland – and that is a fact and an inconvenience we all have come to know too well.
---
Sports
Editor's Note: Guam triathlete Craig Weymouth qualified for the Ironman 70.3 World Championship slated for Sept., 18 in St. George, Utah. This is the second part of a two-part series. Check out part one at www.PostGuam.com.
---
Interested in just the e-Edition? Click below to sign up at rates starting from just $9.99. Our e-Edition payment system uses PayPal, the world's most trusted and secured payment processing system online.